Are you one of those people who has been thinking about starting a website for a long time but haven't taken the plunge yet? You're not alone. A lot of people are intimidated by the process of creating and running a website. But, in this day and age, there's no excuse for not having a web presence. If you don't have a website, you're at a disadvantage compared to your competitors. So, how to start a website in the year 2022?
In this guide, we'll cover everything from choosing a web hosting provider to designing your website. We'll also discuss various website-building tools and platforms that you can use.
So whether you are an entrepreneur, small business owner, or just looking to create a personal website, this guide is for you. Let's get started and let us show you how to start a website!
1. Make A Website Plan
Before you even think about registering a domain name or hiring a web designer, you need to sit down and decide what your website will be about, who your target audience is, and what goals you hope to achieve with your site.
This process is known as creating a website brief. It will include your content plan, design ideas, budget, and timeline. Once you have all this information, you can start looking for a web designer or developer to bring your vision to life.
2. Choose A Domain Name And Web Host
Your domain name is the address of your website on the internet (e.g., www.example.com). Choosing a good domain name is important because it will be how people find and remember your site you can find and buy one via a domain registrar.
Hosting is where your website lives on the internet, like renting space on a server. You'll need to choose a hosting company and web hosting package that meets the needs of your website.
Some of the best options to consider include:
GoDaddy: For domains, you can get started with GoDaddy for as little as $5 per month. They also offer to host and have a website builder if you need help getting started.
Bluehost: Bluehost is one of the world's largest and most popular hosting companies. They offer a free domain name when you sign up for hosting, making them a great option for new websites.
NameCheap: Another popular option for domain names and hosting is NameCheap. You can start with them for as little as $4.88 per month.
On one of those you have to choose a hosting plan between one of these or another web hosting service (There are many more hosting providers out there)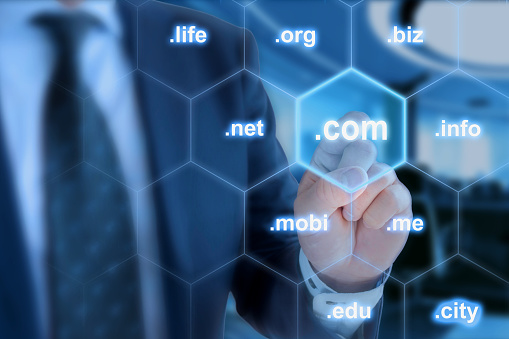 While choosing a domain name, keep the following in mind:
Make it easy to remember and spell
Keep it short
Use keywords (if possible)
Avoid using hyphens or numbers
When you've chosen a domain name, you'll need to choose a hosting company. There are many different hosting companies and packages to choose from. Some of the things you'll want to consider include:
The size of your website (number of pages and images)
The amount of traffic you expect to get
Any special features or requirements (e.g., eCommerce, blog, etc.)
Your budget
Be sure to compare different hosting companies and packages before making your decision. Now that you have a domain name and hosting, you're ready to set up your website.
3. Set Up Your Website
While setting up your business website, one option is to use a content management system (CMS) like WordPress or Wix. These platforms make it easy to create and manage your website without coding knowledge.
If you want more control over the design and functionality of your website, you can create a custom site using HTML, CSS, and JavaScript. This will require more time and effort, but you'll have a website that looks and works exactly how you want it to.
Designing Your WordPress Website
WordPress is a popular content management system that allows you to create a website or blog from scratch or improve an existing site.
First, you must log in to your hosting account and access your cPanel. In your cPanel, look for the "WordPress Tools" section and click on the "Install Now" button under it.
Select your domain name from the drop-down menu on the next page and leave the directory field blank. Then, scroll down and click on the "Check Domain" button.
Once your domain is verified, scroll down and click on the "Install" button.
You need to wait a few minutes while WordPress is installed on your website. Once it's done, you will see a success message with your username and password.
You can now log in to your WordPress site by adding /wp-admin to the end of your domain name (e.g., example.com/wp-admin).
Once logged in to the WordPress dashboard, you can start customizing your website and adding content.
Choosing a WordPress Theme
One of the first things you need to do when setting up a WordPress website is to choose a theme. A WordPress theme is a pre-designed template that you can use for your website.
There are thousands of free and premium WordPress themes available. You can find themes for almost any website, from online stores to blogs and portfolio websites.
To choose a theme, log in to your WordPress admin panel and go to Appearance » Themes. On this page, you will see all the themes currently installed on your website.
If you want to use a free theme, you can click on the "Add New" button at the top of the page. It will take you to the WordPress theme directory, where you can browse through thousands of themes and install the ones you like.
If you want to use a premium theme, you can click on the "Upload Theme" button at the top of the page. This will allow you to upload a ZIP file from your computer. Once the theme is uploaded, you can activate it.
Install Essential WordPress Plugins
Once you have installed a theme, you can start installing plugins. WordPress plugins are small software that adds additional features to your website.
There are thousands of free and premium WordPress plugins, from contact form plugins to SEO plugins and everything in between.
To install a plugin, log in to your WordPress admin panel and go to Plugins » Add New.
On this web page, you can either upload a plugin ZIP file from your computer or search for a plugin from the WordPress plugin directory.
Once you have found a plugin, you want to install, click on the "Install Now" button and then activate the plugin.
Some of the essential WordPress plugins you should install on your website are:
Contact Form 7: A contact form plugin allows you to add a contact form to your website.
Yoast SEO: An SEO plugin that helps you optimize your website for search engines.
W3 Total Cache: A caching plugin speeds up your website by caching static files and database queries.
WPForms: A drag and drop form builder plugin that allows you to create custom forms for your website
These are just a few of the many plugins available for WordPress. Once you have installed and activated these plugins, you can start adding content to your website.
Try Website Builders Like Divi And Elementor
If you don't want to learn how to code or hire a developer, you can try using a WordPress page builder plugin. WordPress page builder plugins are drag and drop tools that allow you to build custom pages and posts without writing code.
Two of the most popular WordPress page builder plugins are Divi and Elementor. Both of these plugins are available as free and premium versions. Most website builders enable even new users to set up a nearly free website without hiring expensive designers or developers.
Divi: It is a popular WordPress page builder plugin with a drag-drop editor and a library of pre-designed templates.
Elementor: Another popular WordPress page builder plugin that includes a drag and drop editor, templates, and widgets it is one of the best website builders out there.
To use either of these plugins, you first need to install and activate them on your website. Once they are activated, you can start creating custom pages and posts with them.
4. Launch Your Website
It's time to make your dream website a reality. You've now chosen your web hosting platform, registered your custom domain name, and designed your site. The final step to making a website is to launch your website so the world can see it. Some things to consider include:
Be sure your pages are ready to go – All content should be written, images should be sized and edited, and pages should be tested for functionality
Get your site's security in order – SSL certificates should be installed and configured.
Ensure your website is backed up – You don't want to lose any of your hard work.
Now it's time to hit the "publish" button and go live. Congratulations! You're now the proud owner of a website.
FAQs
1. Why Do I Need A Website?
There are many benefits to having a website, even if you're a small business or individual. A website can give you a professional online presence, help you reach new customers, and allow you to control how people interact with your brand.
A website can also be a great platform for selling products or services and an effective way to communicate with your customers or clients. In short, a website is an essential tool for businesses and individuals in the modern world.
2. How Do I Create A Website?
Creating a website can seem like a daunting task, but it doesn't have to be. With today's technology, many easy-to-use tools make building a website straightforward.
You don't need to be a tech expert or hire a professional web developer to create a website. With the right platform and some basic knowledge, you can create a professional website on your own.
3. What Should I Include On My New Website?
The content of your website will depend on what kind of business or individual you are. However, there are some essential elements that all websites should include:
A clear and concise message about who you are and what you do
User-friendly navigation that helps visitors find the information they're looking for
High-quality content that is relevant and engaging
Attractive visuals that represent your brand well
A responsive design that looks good on all devices (desktops, laptops, tablets, and smartphones)
4. How Much Does It Cost To Create A Website?
The cost of website creation varies depending on your needs and budget. If you're building a website on your own, many free or low-cost tools are available that make the process affordable. However, if you're looking for a more custom solution, you may need to invest in professional web design services. A successful site does not have to be expensive.
5. What Is Search Engine Optimization?
Search Engine Optimization is a technique that can be used on your own website or online store to improve site visibility amongst search engines.
Some of the first steps include setting up your google search console, then having a look at on page seo and off page website's seo.
6. How to get website traffic?
If you want to get website traffic /website visitors on your WordPress sites you can check out social media marketing options, influencer marketing options", cpm ads, or one of several other marketing ways to attract new people (which you can see in your google analytics
Now you have set up your basic website as an independent own site.
This was how to build a fully functional website with technical knowledge and a simple website layout, we hope you can advance to build a successful website.
For more articles check our blog or use our search bar.